Service Awards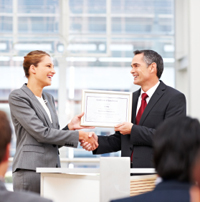 A properly designed years of service award program will increase employee loyalty, build employee morale, and improve employee retention.
Your employees will deliver "greatness" when they feel "appreciated". Treat them well and they will go the extra mile every time. Let them know you recognize that they are the backbone of your organization with an impactful employee service award program and you will retain them for many years, thereby reducing the high cost of turnover.
Our years of service awards provide several ways to recognize employees and let them know they are appreciated.
Whether you have 10 employees or 10,000 employees, we develop a custom years of service award program to meet your specific needs

We showcase your company with a customized award website and custom award presentation with your logo and graphics

Turnkey - Request awards as needed, or send us the list of new employees annually, and we keep track of when they reach a milestone.
Employee Service Award Communications
Our years of service premium presentation package says to your employees, "you are valued!"
Personalized letter of appreciation (on optional company letterhead)

Personalized certificate of appreciation

Premium presentation folder with satin ribbon corners

Emails sent to managers, announcing the employee's milestone for team acknowledgment

Custom company award website with unique URL and your personalize message to employees

Mailed to company for award ceremony/presentation or mailed directly to each employee
Years of Services Award Gift Catalog Program
Printed gift booklet and custom online gift catalog with large gift selection for the gift of choice

Lifestyle gift selection, ranging from cameras, jewelry and electronics to sports and housewares

Online or mail-back gift redemption

Gift mailed directly to employee's residence

Other Service Anniversary Gifts & Keepsakes
Incentive America offers additional years of service keepsakes and corporate awards, including crystal awards, engraved watches, service pins, plaques, etc.